It's not what you earn it's what you keep!
We offer a full range of accounting, tax, and financial services for personal and small business. We're flexible. We're friendly. And perhaps most off all, we listen.
Call us for a complimentary, no cost, no-obligation, initial
consultation.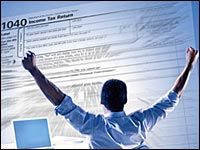 We have been filing taxes at The Ledger Company for years.
With over 20 years of experience we have learned what it takes to prepare and electronically file a tax return with the deductions you deserve.
Our goal is for you to pay the least tax liability, putting more of your hard earned money back in your pocket.
Efiling your tax return with the IRS is the preferred way to file. Filing with us either in our office or through our website can put money in your pocket in one to two weeks.
Your 1040 tax return is checked for accuracy and all required federal and state schedules and forms are attached and submitted.
This eliminates almost 100% of errors in tax filing.
The filing platform The Ledger Company uses has been used for over 30 years by tax professionals all over the United States. There are currently over 25 thousand professionals using the same filing platform to file their clients tax returns.
There is no cost for you until you are satisfied with the results of your return. You can electronically file federal and multiple states for one low price of $25.00!
File federal and state tax return online
tab for more information.
Enrolled to practice before the Internal Revenue Service
Not licensed by the Arkansas State Board of Accountancy
Welcome to our website. We hope you will find it informative and user friendly. Please report any problems to webmaster@ledgerco.com
src="http://pagead2.googlesyndication.com/pagead/show_ads.js">